One Two Trio with Alan Matheson
Wednesday Noon Hours
One Two Trio with Alan Matheson
One Two, Trio is comprised of three proponents of brass instruments and chamber music; Katherine Evans (Trumpet), Valerie Whitney (French Horn), and Jeremy Berkman (Trombone). Founded initially during the pandemic to perform music outside for listeners safely distant, the group has recorded performances for the Chamber Music in the Schools program (CMITS), and most recently performed as part of UBC's Wednesday Noon Hour and Maple Ridge's ACT Theatre presents series. Recent and upcoming appearances include concert series appearances in Langley and Agassiz, as well as at the University of Lethbridge.
ALAN MATHESON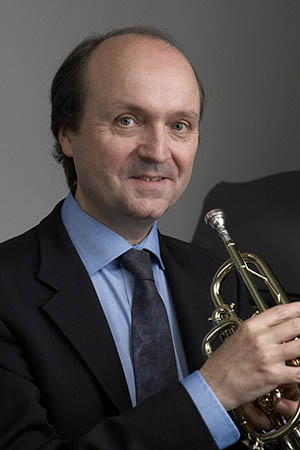 Alan Matheson is a Vancouver-based pianist, trumpeter, composer and arranger. He teaches at the music schools of the University of British Columbia and Vancouver Community College where he is an instructor in jazz piano and trumpet and at the Vancouver Symphony School of Music where he lectures in jazz history. He is a graduate of Northwestern University in Evanston, Illinois and studied with Vincent Cichowicz. Alan has also studied with Stephen Chatman, Barbara Butler, Joe Newman and Clark Terry.
Alan also leads his own big band, nonet, septet and trio and has written arrangements for jazz legends Clark Terry and Bud Shank. As well, Alan has conducted big band tributes to Duke Ellington, Paul Whiteman and Louis Armstrong. He has also performed with the Vancouver Symphony Orchestra, Louis Bellson and Phil Woods. Alan's compositions have been performed by Julia Nolan (saxophone), Sal Ferreras (percussion), David Palmer (pipe organ) and Martin Hackelman (horn). His arrangements for big band have been performed by the Tulane University Jazz Ensemble and the Northwestern University Jazz Ensemble.
PROGRAM
Igor Stravinsky, arr. Alan Matheson
Pulcinella
Shannon Thue, arr. Alan Matheson
The Rose
Alan Matheson
Rainy Night in Helsinki
Burton Lane/Alan Jay Lerner
On a Clear Day
Václav Nelhýbel
Trio for Brass
Bix Beiderbecke
In The Dark
Bix Beiderbecke, arr. Alan Matheson 
From Monday On
Duke Ellington, arr. Alan Matheson
Duke for Four Brass
Upcoming
Sat Sep 23 / 2023 / 7:30pm
Fri Sep 29 / 2023 / 7:30pm
wp_reset_postdata(); ?>